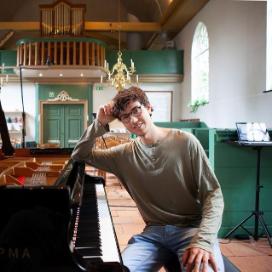 Mijn expertise
Dear people,

I am a spanish pianist, originary from Mallorca (Balearic Islands). I am a cassical piano student at the Conservatorium van Amsterdam doing my Master's Degree. I can give lessons in my place, where I have a grand piano, or I can move to your place in Indischebuurt. Lessons can be taught in English or Spanish.
You can contact me at pauhernandezalenyar@gmail.com. Don't hesitate to contact for a trial or questions. 
Mijn mogelijkheden
I am also used to teach kids and absolutely begginers. My lessons are joyful, entertaining and adapted to your goals and type of music (classical, films, modern, jazz, etc.). I also can prepare with you theory exams, musical language and ear training. 
Relevante ervaring
I have many years of experience as a piano teacher, both in Spain and in The Netherlands, so all levels are welcome. And most important, my main goal is to inspire and motivate people to feel the joy in music!
Muziekinstrument
Buffetpiano, Piano, Vleugelpiano
Liefhebber van live-muziek
ja
Muziekgenre
Klassiek , Jazz
Beschikbaar
als docent/coach
Mijn bijdrage aan de muziekscene
Dear people, I am a spanish pianist, originary from Mallorca (Balearic Islands). I am a cassical piano student at the Conservatorium van Amsterdam doing my Master's Degree. I can give lessons in my place in Zeeburgereiland, where I have a grand piano, or I can move to your place in Ijburg. Lessons can be taught in English or Spanish. I have many years of experience as a piano teacher, both in Spain and in The Netherlands, so all levels are welcome. I am also used to teach kids and absolutely begginers. My lessons are joyful, entertaining and adapted to your goals and type of music (classical, films, modern, jazz, etc.). I also can prepare with you theory exams, musical language and ear training. And most important, my main goal is to inspire and motivate people to feel the joy in music! You can contact me in pauhernandezalenyar@gmail.com. Don't hesitate to contact for a trial or questions. Thank you for your attention. Kind regards, Pau